The Action + Leadership Journal
Support Your Team.
Grow Your Follow Through Skills.
Help Your Team Thrive.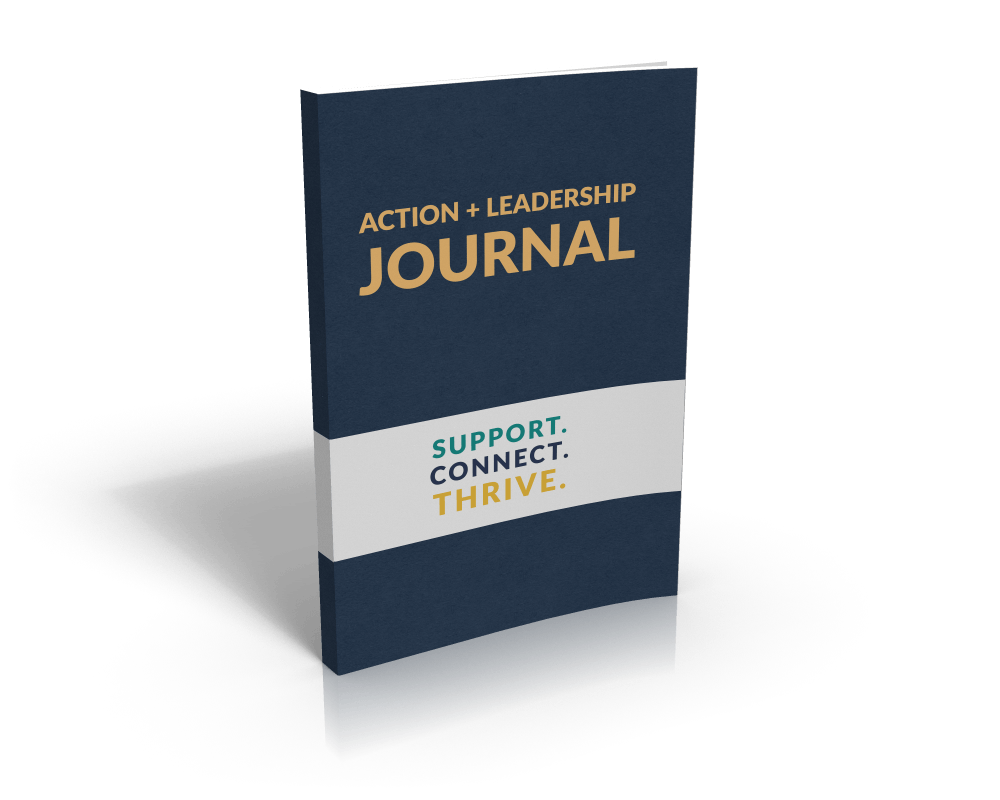 The Action + Leadership Journal Takes Your Follow Through to the Next Level
Only $14.99 per copy (10 or more Action + Leadership Journals are
$12.99 each – use the coupon code BUY10 at checkout).
Could your follow through skills improve?

Does your team complain that you don't follow up?

Do you have a system that ensures success (and your own mental health)?
The Action + Leadership Journal is a proven system for building follow up and follow through skills to help you and your team thrive. It is flexible and doesn't require you to "reinvent" what you do today. Your 168-page Journal tracks progress for one entire quarter and helps you build strong leadership habits, including:
A daily process for focusing on your own goals and mindset… if you don't care for yourself you can't help others;
Weekly reminders of key approachability habits that help you make sure you are bulding leadership skills every single day;
A practical system for tracking your most important task each day, your key follow up actions, PLUS a built-in way to help you stop overcomitting;
Helpful ways to track other "follow through killers" like delegated tasks, "waiting for" items, "open loop" items, and more.
Get copies for your whole team!
Take a Guided Tour of our NEW Action + Leadership Journal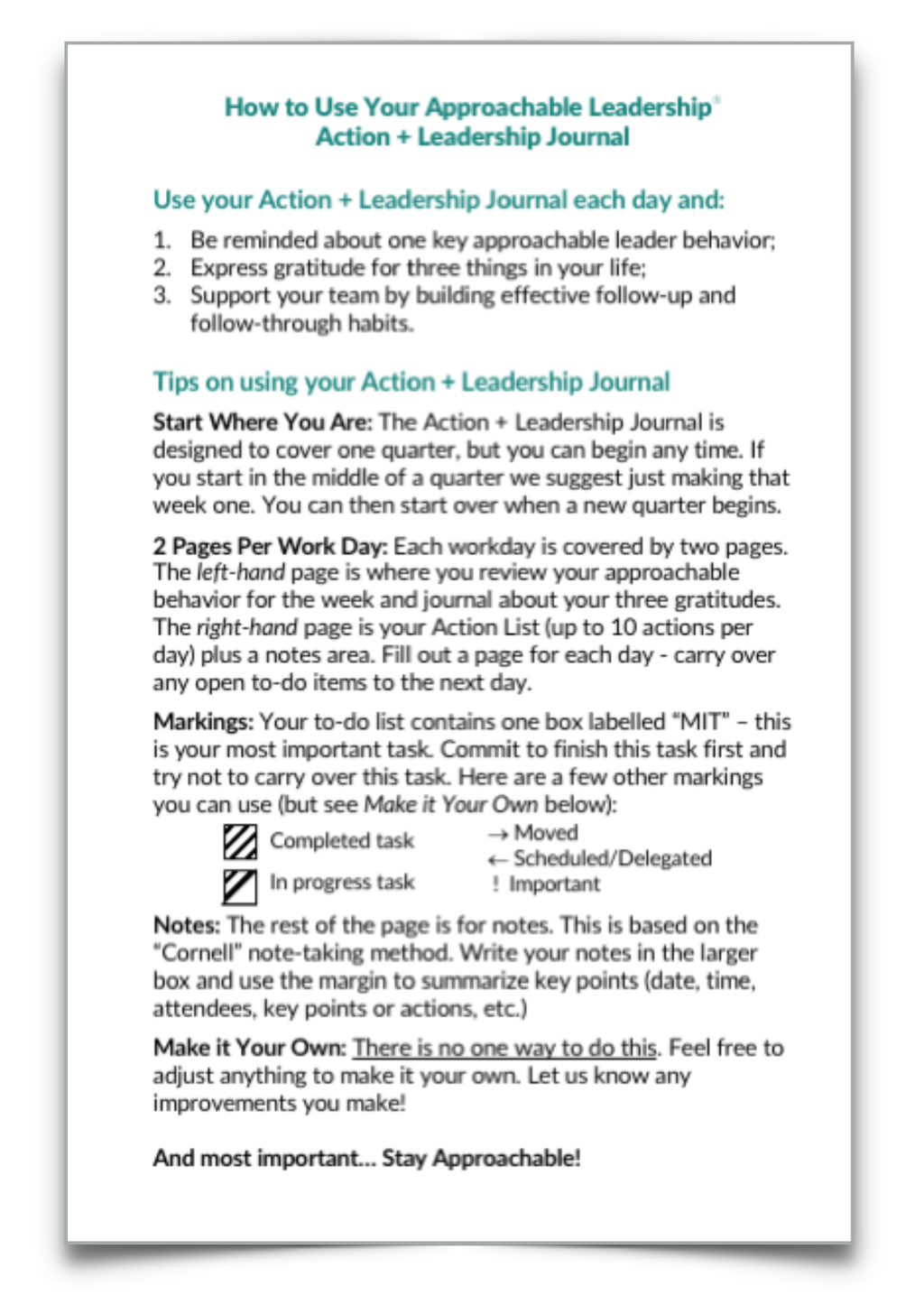 Quickstart
How To Use Your Action + Leadership Journal 
This section of the Journal is a tutorial with tips on how to use the Action + Leadership Journal. Here you will learn:
The purpose of each section of the Action + Leadership Journal;
Quick-start tips that let you add the Journal to whatever system you already use (instead of trying to completely change what works for you in your current process);
Explanation of each section of the daily Journal pages;

Tips on how to mark your follow up actions, delegated or scheduled tasks, important items and more;

Pointers for quick note-taking during team meetings, one-on-ones, coaching sessions and the like;

Where to keep track of items that DON'T need to go on your current list (where they just distract and annoy) so you can rest easy, knowing you won't lose track of them forever.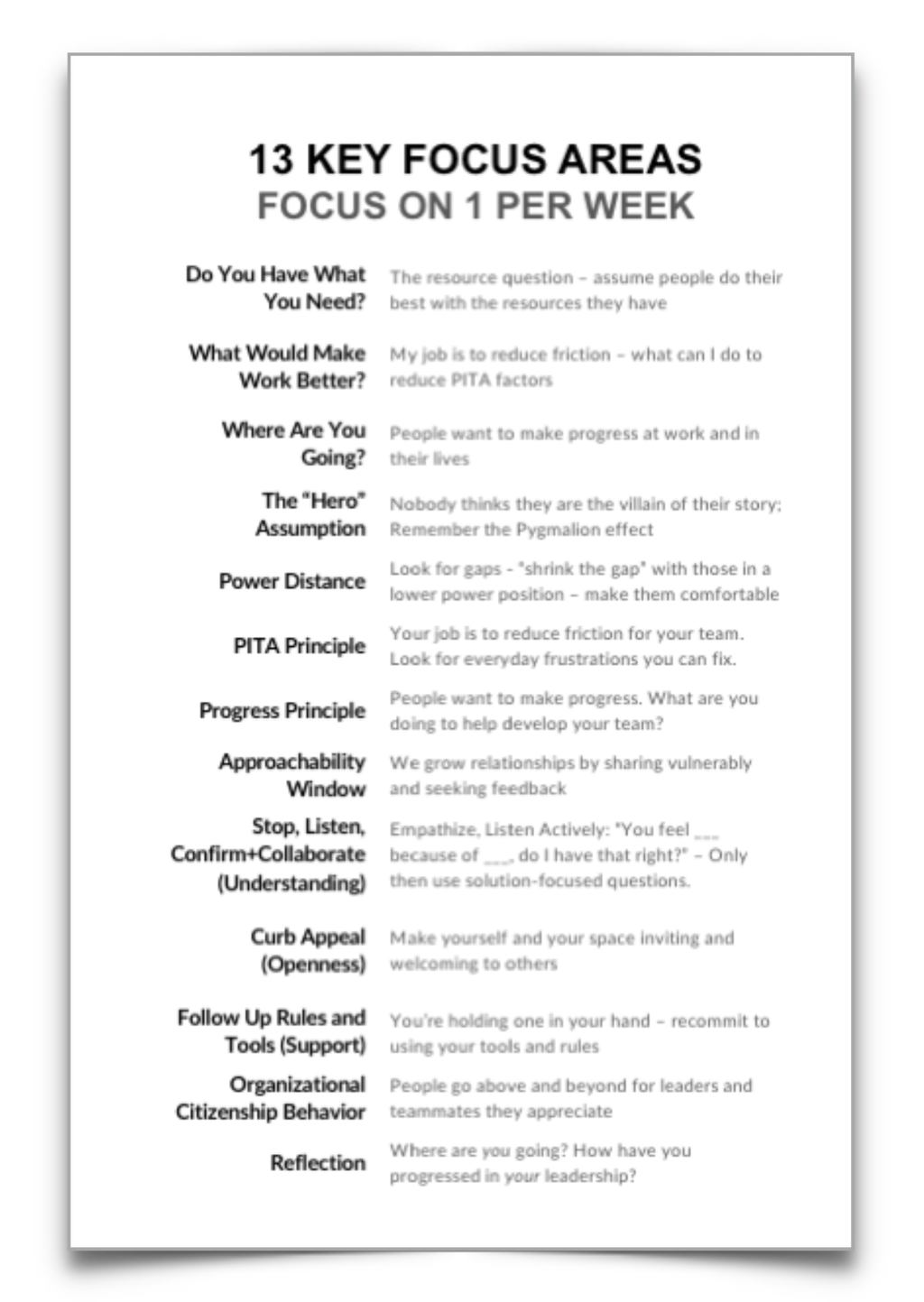 13 Key Focus Areas
Build Your Approachable Leadership Skills Every Day 
Here you see the 13 Focus Areas that you will build on over the quarter. Each week you will focus on one key leadership behavior.
Based on Ben Frankin's "13 Virtues" weekly planning method, you spend a moment each day reflecting on one key Approachable Leadership behavior;

Your Focus Area changes each week – you will build habits in 13 different leadership areas over the course of the quarter;

Each Focus Area is tied to the core behaviors you learn in our Approachable Leadership Learning System;
If your team is going through our Learn and Lead Huddle series you will be reinforcing the same behaviors you are learning in the Huddle modules;
Each focus area is built right into your daily Action Journal – you just move to the next page of the Journal and are reminded of it as you plan your day.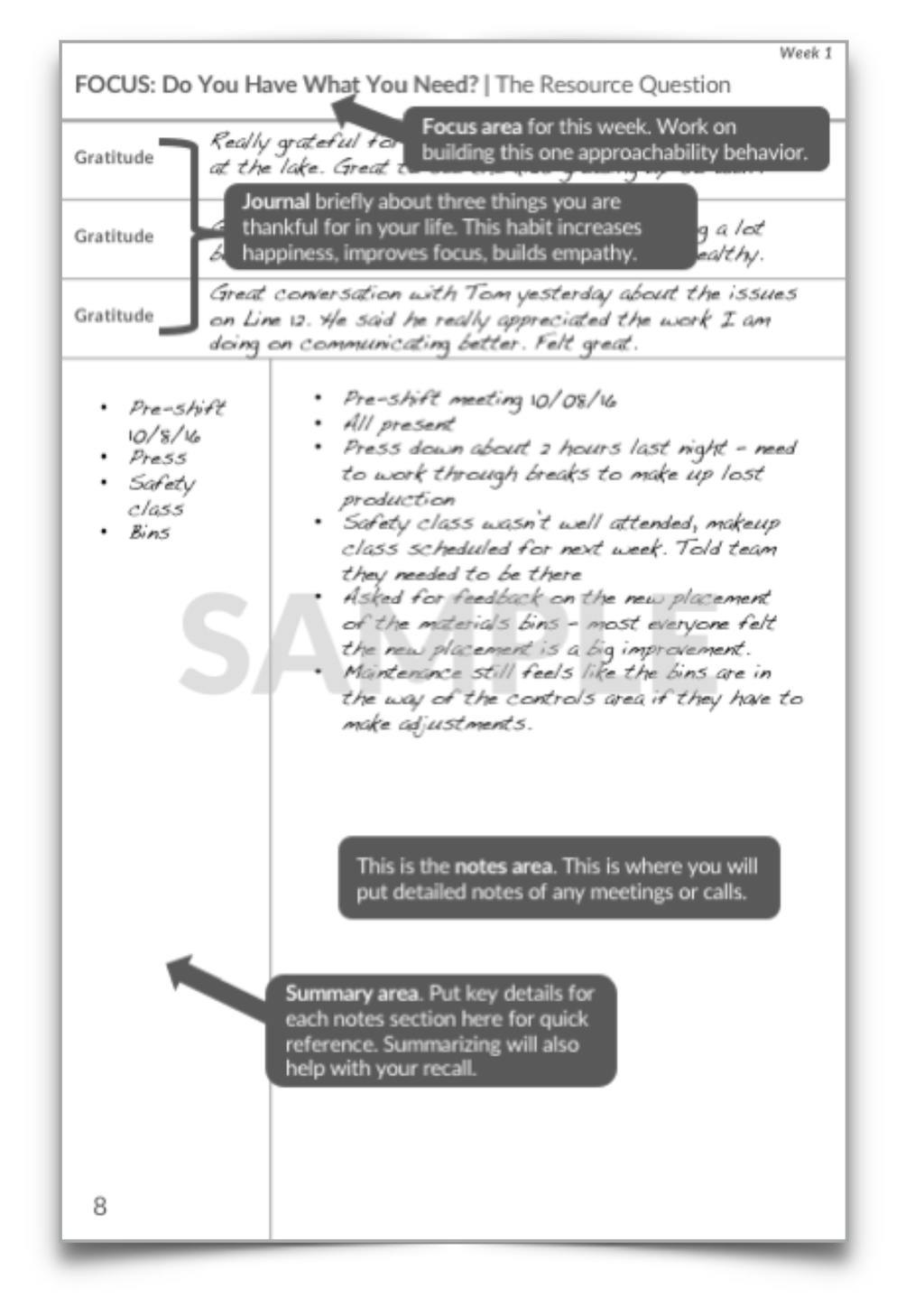 Focus + Gratitutde + Notes Page
Start Every Day Off Right.
This Journal page makes sure you start each day right. Review your Key Focus Area for the week and note 3 Gratitudes. Plus space for notes on what happens during that day.
At the top of each left-facing page you will see your Key Focus Area for the week – no matter how busy your day you will be reminded of this key leadership behavior every time you check your to-do list;

Your 3 Gratitudes is where you take 2 minutes each morning to jot down 3 things you are grateful for in your life – research suggests this is one of the most important habits for happy and successful people;

The notes section allows you to track key points from meetings and calls during your day;

A handy summary section – based on the Cornell note-taking method – gives you a spot to highlight key points, identify next action items, and make it easy to find key points at a glance as you thumb through your Journal.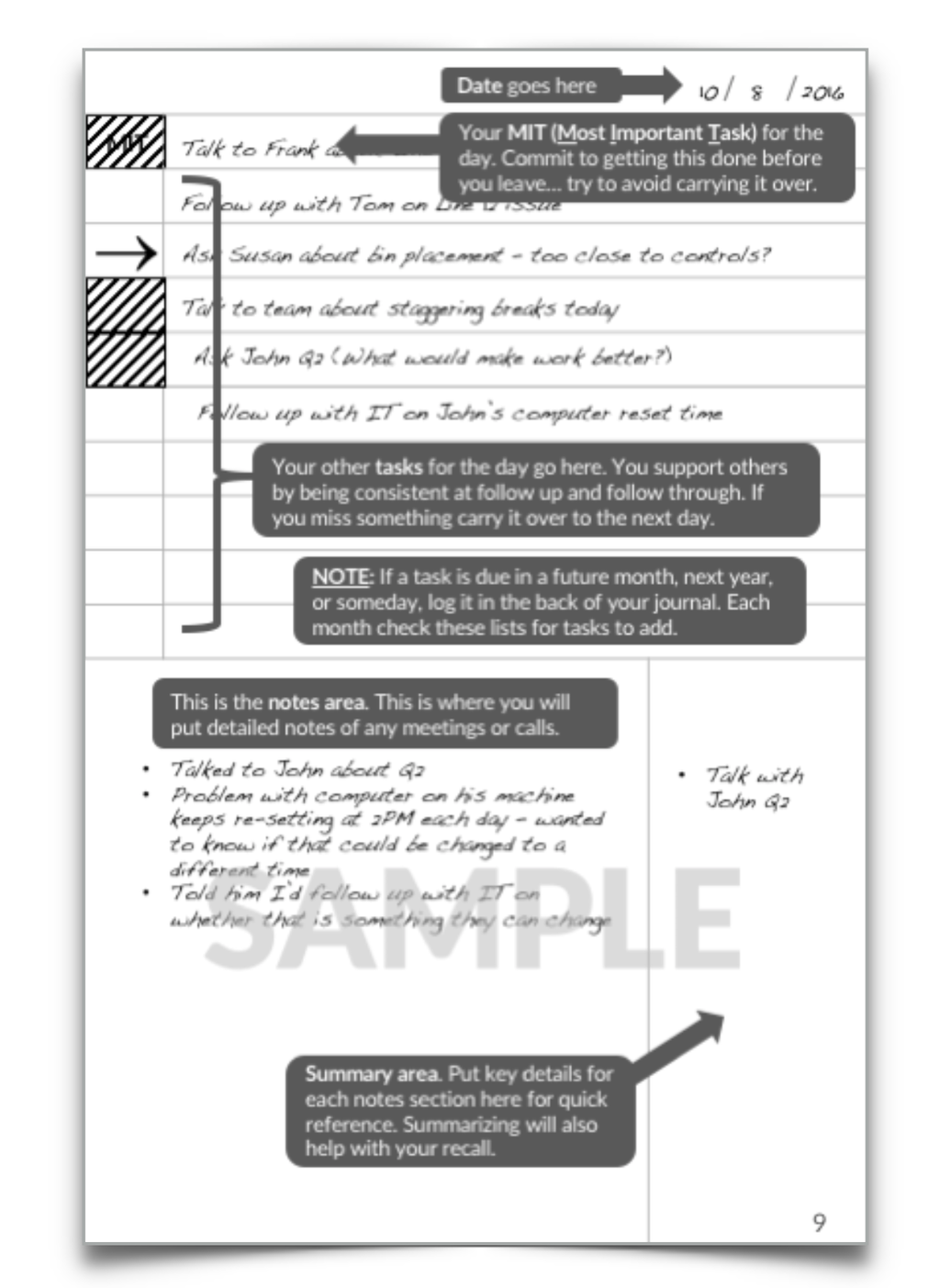 Action List + Notes Page
Become a Follow Through Superhero.
This Journal page is where you mow down your Action List. Go ahead and add "Leap a tall building" – your team will think you can.
At the top of each right-facing page you track the date (each two-page spread covers one work day) which lets you quickly review notes and actions taken earlier in the quarter;

Below the date is your Action List – these are the top 10 items you plan to act on that day;

The top item is marked MIT and is reserved for your Most Important Task – you commit to finishing this task no matter what (we recommend you hit that one first if you can);

List other tasks below your MIT. M

ore than 10 items? Consider moving some of those items to later in the week;

Each task area has a place to mark status – completed, delegated or scheduled, moved, or in process – you can add any other designations that help you stay organized (context, importance, effort required, etc.);

The Journal is flexible enough to accommodate almost any productivity system. We encourage you to make it your own!
What people are saying about The Approachability Playbook:
"Immensely readable, practical guide."
If you care about the people who work for you and want to bring out the best in them, read Phil Wilson's Approachability Playbook. It is an immensely readable, practical guide to becoming a better boss, and it will make you think and laugh as you turn the pages.
"Indispensable. Research


plus

practical exercises."
The Approachability Playbook is a rare find for those developing leadership skills in ourselves and others. Phil Wilson hits the right combination of research insight with practical guidance and exercises to make this read an indispensable part of any leader's skill debelopment toolbox.
"Brilliantly digestible."
Phil… BRAVO! The way you have so simply illuminated the concept of approachability is brilliantly digestible, leaving the reader a sizable portion of, "I can do this." The Approachability Playbook gravitates to the top when it comes to practical actions you can take to get the best out of your workplace interactions.
© 2016 Approachable Leadership. All Rights Reserved.